Description
Aero High Aspect foil set up
For Wingfoiling the Aero High Aspect foil set is really the one we are selling to people who have learnt to foil on say an Aero 2000 foil and want more speed and more turning ability.
This set up is the sort of choice for quite alot of the top Wingfoilers (Nik Baker) and other local Wingfoilers who want to get out in slightly stronger winds, who want more top speed, who can pump the foil onto the plane and want to glide and start riding waves.  Unlike the Aero foils the High Aspect models has more top end speed and will accelerate rather than breaching you out of the water.
Some Foilers who are super light, under 75kgs, are purchasing this foil to start with, but its worth noting that its better to get a little bit of advice to make sure you are buying the correct foil for your bodyweight and ability.
Comes complete with: Mast, Front & Back Wing, Fuselage, Wedge Set, Screw Sets, EVA Pad, Covers and Bag
CARBON WINGS
Carbon front and back wings with 30° layup for maximum performance with direct flex response and minimal weight
FORMULA 1 TECHNOLOGY
Formula 1 aluminium fusion technology mast – made in
Germany – with special profile and increased chord length
for 30% higher stiffness compared to other Alu masts
AL FUSELAGE
Alu Fuselage with extra large mounting area for bulletproof connections and maximum load spread
HELICOIL THREADS
Helicoil-threads in mast and fuselage for longevity and maximum strength connections
GLUED AND SCREWED
Glued and screwed connection of mast and base plate for extra rigid connection and maximum durability
WITHOUT POCKETS
Fuselage > Wing connection without pockets – not getting stuck, no wearing out
TRACK FOIL MOUNT
Track foil mount base plate – allows tuning through the mounting position
FULLY INTERCHANGEABLE
Wings and fuselages fully interchangeable for upgrades and tuning according to conditions and rider level
INDIVIDUAL TUNING
Individual tuning through supplied wedges – changes angle of attack
BAG
Foilbag for safe transport of your Aero Foil and all accessories, including covers for each individual part. Velcro patches keep all parts in place to avoid damage
TECHNOLOGY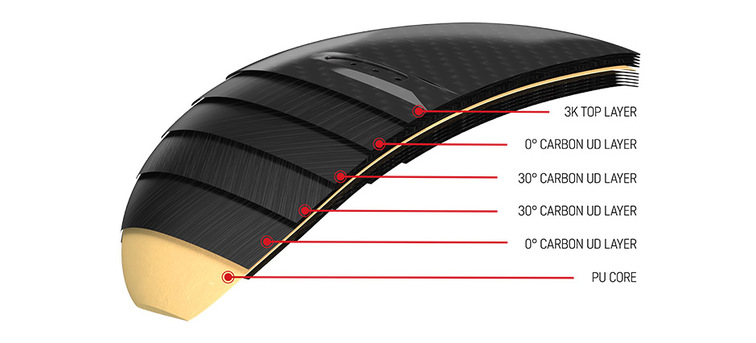 WINGS
+ 30° Layup orientation for maximum bending and torsional stiffness
+ Maximum performance
+ Light weight construction
+ Front Wing with molded foam core and solid Carbon centre piece for bullet proof connections
+ Back Wing solid UD Carbon
MAST
+ High grade Aluminium mast made in Germany
+ Wider chord length and special profile
+ About 30% stiffer than other Aluminium masts
+ "Feels like Carbon"
+ No loss of power when pumping
MAST > BASE PLATE CONNECTION
+ Formula 1 Aluminium Fusion Technology – Made in Germany
+ Glued AND screwed connection of mast and base
+ Ultra rigid
+ Highly durable
+ Feels like one piece
SCREWED CONNECTIONS
+ Stainless Steel Heli Coil inserts in all screwed connections
+ Takes 1.2 tons of load per M8 screw
+ Bulletproof
+ No corrosion between screw and thread
+ Heli Coils Replacable
FRONT WING CONNECTION
+ Large mounting area for maximum load spread
+ No wearing out
+ Not getting stuck – No Hammer needed!
+ Recess in front wings for neat fit