Sal in Cape Verde in recent years had fallen off my windsurfing holiday radar.  I actually worked there nearly 10 years ago at Josh Angulo's epic beachfront centre for a season but hadn't returned to the Island since.
Following some incredible winter sailing in the UK, it seemed a bit over the top to book a quick week getaway for yet more but I loved the idea of sailing some 'proper waves' in nice warm water and sunshine.
What was originally supposed to be a boys trip, ended up being Ian Whittaker (West Wittering local), his family, me, my family and Jamie (Mrs Doubtfire) Hawkins. A weird mix for a trip to a rock in the middle of the Atlantic! But, thanks to 2 extremely understanding wives and 4 kids who are definitely happier on a dusty beach than in Disney Land, it actually worked pretty well.
The forecast running up to the holiday was a bit up in the air. It looked like we were going to get lots of wind but the swell was looking more like wind swell than the much needed north-westerly pulses that light up the point breaks on the west coast.
We landed, left the wives to check in with the kids and rushed off up the west coast hunting for what we thought was the biggest of the swell we would see all week.
Ponta Preta was flat and as we drove up the coast checking other spots, the wind turned off. With nothing worth surfing, we turned back to the hotel thinking we were in for a week of slalom sailing…
We couldn't have been more wrong – we sailed fun waves on every single day in the week which followed, scoring a lot of the great spots that the island has to offer. As I sit writing this up, I am still blown away by how good the sailing was, especially given the ropey forecast.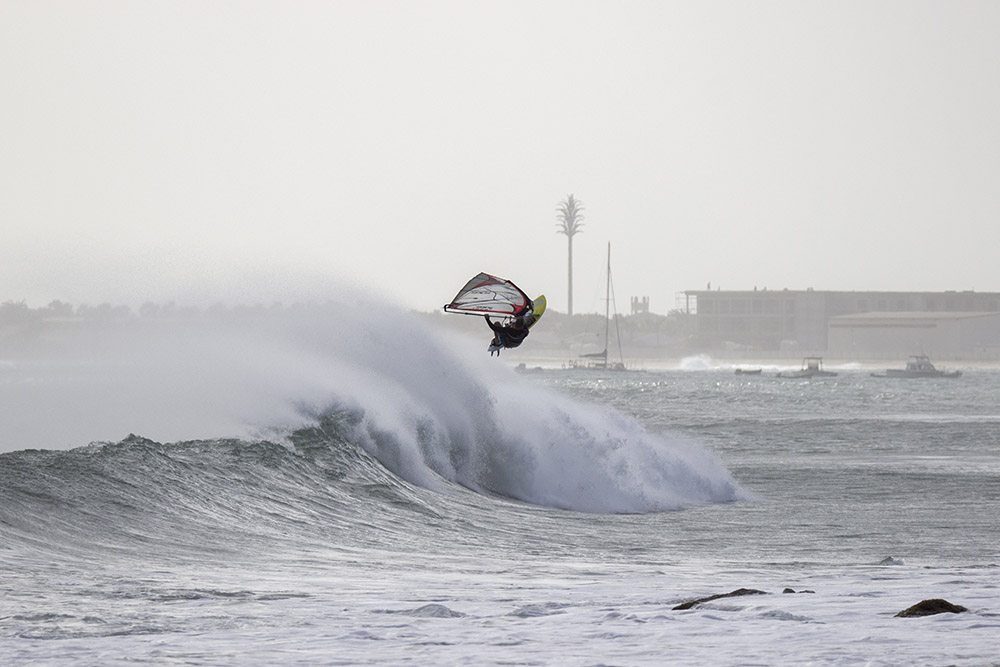 We managed to sail six different spots in the seven days, still finding some family time (although probably not as much as we should have…):
Ponta Preta: the most famous spot on the Island. We were really lucky to get this session as they were running a kids' surf camp all week and not letting anyone sail or surf it. We pulled up with the family, aiming to go for lunch in the café there. While we were eating, we saw a few bombs peel down the point. Needless to say, we were rigged and on the water in minutes, enjoying one of the World's best windsurfing waves to ourselves for three hours! If you've never seen Ponta Preta break, it's worth watching it even if you don't go sailing. The water is turquoise blue with bright white white-water. Combed by the cross-off winds, you can stand on the point and watch the most awe-inspiring action only a few metres away as heavy, barrelling waves wrap around the point
Little Ho'okipa: otherwise known as 'secret spot', a right-hander breaks at the right of the bay and a lefthander at the left, meaning you get a great aerial section running towards you. Josh Angulo used this spot as a training ground the year he won the wave title and when you check it out, you can see why. A fairly shallow reef also means that it picks up any swell running.
Alibaba: a very, very long right-hand point break which is playful when head high, giving you as many turns as you want. A nice easy, pebbly launch and a really defined point actually makes this quite an accessible break when the waves aren't too big. You can just go as deep as comfortable on the waves, riding the shoulder and slowly working your way towards the peak.
Cural Joul: a big, scary wave which breaks onto some very sharp rocks. This place tends to pick up any swell going and it seemed to turn the supposed 3ft swell into mast+ high bombs.
Leme Bedje: a spot on the south coast of Sal that doesn't often turn on. We got lucky (again) and had some great riding with the wind from the left while the families hung out at the Angulo club just up the beach.
Angulo shore break: last but not least, the shore break outside the Angulo centre kicked in on our second to last day, with a few head to logo-high sets. This was a real treat as the wind was strong and the boys were loving smacking the lip in front of their adoring fans chilling in the Angulo centre.
All in all, we lucked out but it really made me realise what a watersports paradise the island is. An epic week's sailing and one that will be hard to beat!
Thanks to 2XS (http://www.2xs.co.uk/) for the windsurf gear, Prosport Sunscreen (http://www.prosportsunscreen.co.uk/) for not letting us burn and Angulo Cabo Verde (http://www.angulocaboverde.com/) for feeding us Caipirinha and letting the kids run wild.
Jamie Hawkins:
I had been to the next Island Boa Vista lol. before, which I reminded the guys every two minutes, so had a rough idea of what to expect and also all the images from the fabled ponta preta in my head, so for me this trip was all about that 'wave of your life' that I had heard was attainable at Ponta'. That was the whole reason for the trip for me. One spot, one wave!!

The overall conditions of the trip were awesome. Windy everyday and waves in the head to logo region everyday and a handful of breaks to choose from for all levels. Simply perfect windsurf trip conditions.

So in short I was a little disappointed not to get the mast-mast and a half glassy peeling waves I was hoping for, maybe too much to ask in a weeks trip? But still. For me the highlights were Sailing mast high high plus, knarly Corral Joule, probably the scariest, wave with a definite consequence, I have sailed since back in Maui,  on my own for half an hour or so whilst Ian and Emile found there mast extensions, they seemingly misplaced for a bit!!!

Hanging out at Josh Angulos surf centre ( Josh an old mate from the tour back in the day) and watching him sail with the same flair skill and flow that he always had from a young kid was very cool. He is still truly world class on a wave!

A perfect windsurf week away.
Ian Whittaker:
I had wanted to visit sal for quite some time, but what originally started out as a lads trip soon became a lads/family/3k trip – ouch, wives can be very persuasive!
However little did I know that sailing Ponta Preta (desperate to get a wipe-out shot) soon became a bonus as the wife saved my new Ezzys from the rocks – I knew there was a reason for the wife to be there!

That day was classic, I'd said that morning to Jenny I had to tick it off my bucket list, she laughed at me, but it all worked out perfectly and it's been well and truly ticked.

We also sailed "little hookipa" dubbed the secret spot. This place is awesome, you could learn every move here if you stayed a while, it's a perfect logo high wave and very forgiving.

To top it off the days were ended at Angulos beach bar, with dj's on the decks, capirinhas flowing, locals dancing while watching josh Angulo preforming as well as ever…. A serene scene.