2XS Club has been in existence since the early 80's. We took the Club over in 1991 when there were less than 60 members and windsurfing was going to be banned at West Wittering. We have worked very hard and spent many hours with locals, WWE & CME board members and local councils creating a workable safety system for West Wittering beach. When kitesurfing came along this created new challenges for the Club and now we spend most of our time resolving safety matters to do with kiting at West Wittering beach. We certainly have strong support from West Wittering Estate, the landowners of the beach, who have invested with us in the new changing rooms and showers and are supportive of the club's activities. We hope and expect these good relations will continue and look forward to your support when launching and recovery lanes are in place on the water from March to October and indeed throughout the rest of the year.
The contents of this should help you to prepare properly for your windsurfing/kitesurfing and to avoid trouble on the water. Please take the time to read it fully and if you have any comments or queries please call me personally on 01243 512552. Regards, Simon Bassett
GENERAL
Membership definition
Membership is not transferable and is only for the named member or family members on signed WWWC membership forms.
Single –one person only adult over age 18 years old
Family-2 adults and children under the age of 18 all at same home address, same surname (max number 4 children) no under 16 year old can be left without parental or legal guardian being present at the club – minors under the age of 11 years old are not allowed to use the changing rooms without parental supervision.
Local membership is available to home owners in the following post codes only   PO20 7XX, PO20 8XX or PO20 9XX – this does not cover short term holiday rentals .
Membership duration– runs for 12 months from the time you pay for your membership.
Joining fee –for new members there is a joining fee of £85 –if members are late with their renewals  over 1 month they will also be required to pay the joining fee again.
Bibs – all members are required to wear bibs while on the water –windsurfers March 1 until October 30th –kite surfers all year round.  A bib deposit  is required to  WWWC for £30 -and your unique number will be recorded.  If you lose your bib you will be required to replace at your cost.  Bibs are not transferable.  Bibs are the property of WWWC if you decide not to renew your membership,  on return of the bib – we will refund you the bib deposit.
Signing in from a safety point of view please sign in-bib number, name – and out in the relevant windsurf or kite surf diary in the WWWC office-please check with WWWC staff about any changes to weather or safety instructions in relation to kite and windsurf zones.
Insurance
All members are required to have 3rd liability for on the water cover – to the minimum of £3 million cover-we require insurance policy number and valid expiry date.
Car Park Fees
These are not covered by your WWWC membership –you can pay daily or buy a season ticket which is the cheapest option if you use the club regularly.
Rules
Please make sure you read them and fully understand them – we can run through them in the WWWC office if you need further explanation.In simple terms we expect each member to respect other water users and not to endanger other beach users or swimmers.  The list is below .
All members must abide by the decisions of the Safety Officer / Club Manager. If in the interest of safety, particularly in the height of summer, it is deemed necessary, the Safety Officer may stop windsurfing / kitesurfing temporarily if conditions dictate.
Launching and recovery is only allowed through the zoned lanes, marked with yellow buoys. Windsurfers/kitesurfers must launch 4 buoys from the tide line, through the laned channel. When on the water in summertime during the swimming season keep clear of the shoreline by a minimum of 2 mast lengths.
Kitesurfing – no launching at high tide – launching only after tide is one metre to seaward from the green cardinal marker on groyne 13a which is the first groyne to the right after the windsurfing club.
Whilst on the water, all windsurfers must treat other beach users with the greatest consideration. Any swimmer in the water must be avoided by at least 100ft (6 mast lengths). Swimmers must always be passed to seaward.
Any member who jeopardises the safety of a swimmer or another beach user will be temporarily or permanently banned. In the event of permanent ban membership and car parking will not be refunded.
Club members will be required to wear a Club bib (available from the Club Manager) whilst sailing from mid-March to end of October. Please sign in and out in the Club diary in the Clubhouse.
Please observe and abide by the car parking terms; all vehicles must be off the Estate by 8.30pm GMT.
Members are allowed to bring guests (guest fees: adult £6.50, kids £4.50) during the summer months. Total number of visits limited to four, and subject to the following requirements:

Members must ensure that guests have paid the appropriate fee
The guest must have evidence of third party insurance
The guest must have read, and understood fully, the Club rules
Guests must wear the Club bib whilst sailing.

Membership is not transferable. Please place your sticker on the right hand side of your windscreen so that it is clearly visible at the Estate entrance barrier.
Children cannot be left alone at the windsurf club or whilst windsurfing/kitesurfing, the parent or guardian must be with them at all times.
Take special care when parking or reversing, small children are difficult to see behind vans or cars.
Parents please dont let small children play in car park area.
Membership is only for personal watersports use – no commercial/promotional use is allowed.
Bibs are the property of WWWC and cannot be taken offsite, loaned or used by non members. Each bib has a value of £25 if lost by a member.
Car park fees are payable daily or you can purchase a season ticket from West Wittering Estate.
CLUB SAFETY RECOMMENDATIONS
Always check local weather conditions prior to going on the water and ensure that an appropriate wetsuit is worn, together with an adequate buoyancy aid and helmet if required.
A board on starboard tack has right of way over a board on port tack.
Any person in the water should be avoided.
Boards on opposite tacks – a sailor going out through the surf has right of way over a sailor coming in.
Boards coming in on the same wave – the sailor closest to the shoulder of the wave (breaking point) has right of way.
Sail with others – whilst windsurfing/kitesurfing is an individual sport, it is advisable never to sail alone. Always inform someone of your sailing plans and an expected time of return. Never sail too far offshore, even in good onshore conditions, as visibility is dramatically reduced when there is any swell running.
Avoid strong tides, offshore winds and poor visibility:

Offshore winds – These winds will produce very flat water close to the shore, but the wind will increase in strength away from the land. If a problem should arise, the sailor will be blown away from the security of the point of departure.
Strong tides – Be aware of the tides; tidal streams can be hazardous depending upon the size and state of the tide.

Check that your equipment is seaworthy before windsurfing/kitesurfing and that you have the correct equipment to suit the conditions.
Be honest when assessing your own abilities, especially in extreme conditions. Do not go out in conditions which are beyond your own capabilities – if in doubt, don't go out!
When leaving equipment unattended, make certain it does not endanger other beach users or cause damage to their equipment. Position/secure your gear to prevent the wind from 'picking it up'.
It is advisable to carry a spare rope, safety flares and a mobile phone whilst you are on the water.
If you are unsure about the conditions and how they might change throughout the day, please speak to the Club Manager on the beach or call us on 01243 513077.
WWWC KITESURFING RULES
Kite surfers must sign in at Windsurf Club and check in with Club Manager before kite surfing.
No more than 20 kite surfers out at once.
The decision will be taken each day in the summer whether there is suitable space and conditions for kite surfing by the Windsurfing Club Manager.
Launching and landing through the laned launching zone only.
Kite surfers must take absolute responsibility for their own safety, more importantly that of other beach and water users, if you feel there are too many people either on the beach or on the water you should assess the situation and exercise restraint. Also if you see any kite surfer out of control or about to launch dangerously it makes good sense to assist and advise them. Collectively kite surfers can create a safer environment, those who act irresponsibly will jeopardise the sport for everyone.
All kites must be fitted with a safety leash to the harness. It is advisable to test all safety systems prior to launching kite.
Kite surfers must avoid swimmers, windsurfers and other beach users.
You must ensure there is clear space on the beach to launch and land prior to kite surfing.
Never 'over fly' people on the beach, foot paths or horses. Be especially careful of children who are drawn to all kites thinking they are toys, but generally do not realise the dangers that a power kite can present.
Safety advice from WWE staff or WWWC beach manager should be adhered to.
All kite surfers to have 3rd party insurance.
Kite surfers must keep at least one line length (ie. 50 metres) or more from the shoreline, do not over fly the beach.
Novice kite surfers must have had lessons and a reasonable level of proficiency before venturing amongst others; someone to assist landing and launching is essential for all levels of kite surfers.
No launching at high tide – launching only after tide is one metre to seaward from the green cardinal marker on groyne 13a which is the first groyne to the right after the windsurfing club.
Kite surfing in offshore winds and strong gusty conditions should be avoided.
The lagoon in front of WWWC should be avoided when there are swimmers, learners or many windsurfers.
Jumping on land is to be avoided.
Assessment of weather conditions is essential, in particular the size of kite for wind strength/ability.
Kite surfers should keep clear of other water users, preferably downwind. Kitesurfers should not try jumps or manoeuvres when there is a chance you could drift downwind onto another water user. Always check downwind prior to any manoeuvre. If you are too close to another windsurfer or kitesurfer put the kite into its neutral position and allow them to pass. Whenever possible stay out to sea away from other water users, the lagoon can only take 5 kite surfers safely at one time, then only if not busy with other water users. WWWC may divide lagoon to keep learner windsurfers at west end with other kite surfers at East, beach manager to advise this. Please keep clear of beginners kite surfing that are having tuition.
Any kite surfer who endangers any other beach user, summer or winter will be asked to leave the Club, without any refunds.
Kites must not left unattended on the beach unless they are secure with sand bags. Lines MUST always be detached when kites are left on the beach.
Winter kitesurfing – all kitesurfers must wear bibs throughout the winter which will need to be picked up before 31 October at WWWC and registered at the Club. A £20 deposit will be required and this will be refunded when the bib is returned at the beginning of the following season.
Bibs are the property of WWWC and cannot be taken offsite, loaned or used by non members. Each bib has a value of £20 if lost by a member.
SUMMER RULES (1ST JUNE TO 10TH SEPTEMBER)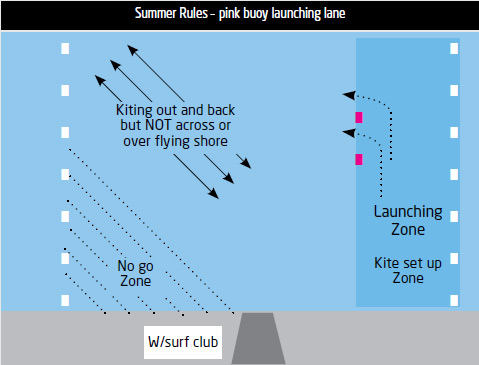 In the summer season the beach is busy with swimmers. This means we implement some extra safety procedures to ensure the the safety of other beach users.
We will drop two new pink buoys in line with the groyne to the right of the windsurf club (as you look at from the beach towards the sea.). All windsurfers and kitesurfers are to rig and launch to the Hayling Island (or Windward) side of the new pink buoys. If you are unsure of this procedure please enquire in the Windsurf Club.
The shore line to the East and West of the Centre must be kept clear by at least 50m (2 x kite line lengths or 6 x mast lengths) at all times without exception.
The lifeguards will endeavour to keep our launching zone clear of swimmers. If this does not happen we will chase up the situation on your behalf. Please do not kite or windsurf close to swimmers in between the yellow buoyed area.
The use of the lagoons will change daily depending on conditions please check with a member of staff for details.
RULE CHANGES
Rules are constantly monitored and changes are made when required. Up-to-date rules can be found posted at the WWWC clubhouse and on the 2XS web site under 'WWWC kite rules'.